Student's Guide to Climate Action
Online
---
Tuesday, 05/04/2022
16:00 - 17:30

Online

---
Event Description
{{detailsExpanded ? '- Show Less' : '+ Show More'}}
The intensifying impacts of climate change are felt globally, but the greatest victim may be the future that belongs to young people. For many young people, climate action is not a choice, but the only option to protect nature, humanity and their livelihoods. Are the voices and ideas of young people being heard by those at the forefront of climate negotiations? What is the role of youth in climate action, and how are young people shaping a fair and just transition to a climate resilient future? 
This event will feature youth activists, speakers and panellists who are leading the global push to tackle the climate emergency, and provide insights on how young people can take action regardless of background.  
This event is open to University of Edinburgh staff and students, as well as students enrolled in the NICE Programme.
#UoETakeAction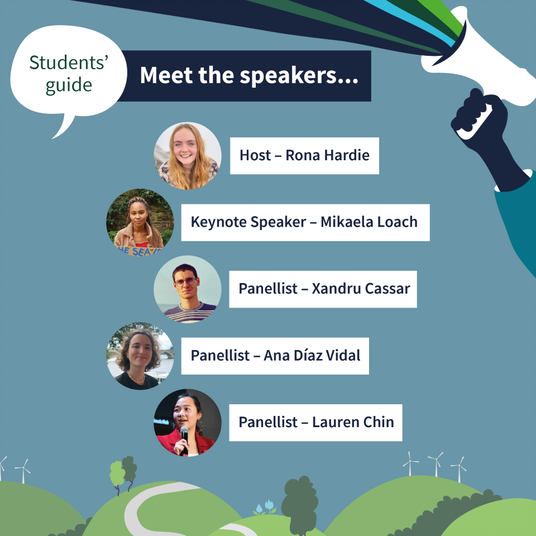 Host – Rona Hardie 
Rona Hardie is an MSc student studying Global Environment, Politics and Society, with plans to focus on the impact that hosting COP26 has had on the Scottish climate justice movement. She also works part-time at Tipping Point UK as a Scotland National Organiser and Stop Cambo / No New Oil and Gas campaigner.   
Keynote Speaker – Mikaela Loach 
Mikaela Loach is a climate justice activist, co-host of The Yikes Podcast, writer and 5th year medical student. She is one of three claimants who took the UK government to court to challenge the Oil & Gas Association's policy in the North Sea and the subsidies and tax breaks the industry is given by the UK government. Her organising work and Instagram focuses on highlighting the harm caused by the fossil fuel industry, and the intersections of the climate crisis with oppressive systems such as white supremacy and migrant injustices. You can support the Paid To Pollute court case by visiting paidtopollute.org.uk 
Panellist - Xandru Cassar  
Xandru Cassar is a Maltese student reading a degree in Agricultural Economics (BSc Hons) at the Global Academy of Agriculture and Food Security. He is serving as the Secretary of the Edinburgh Food Security and Sustainability Society, and is involved in various organisations including Young Christian Workers Malta and the Edinburgh University Futsal Club.  
In September 2021, Xandru attended the Youth4Climate: Driving Ambition Pre-COP youth summit, hosted in Milan as delegate for Malta. The following November, he had the privilege of attending the second week of COP26 in Glasgow as a delegate of the University of Edinburgh.  
His education at St. Aloysius College, a Jesuit school in Birkirkara, instilled the principles of social justice and solidary. These are the lenses through which Xandru understands and acts on environmental and climate issues.  
Panellist – Ana Díaz Vidal 
Ana is a Sustainable Development (Politics and IR) student at the University of Edinburgh and former treasurer and co-founder of WIPIR. She is a Feminist Climate Ambassador for the Green European Foundation and attended COP26 official negotiations as part of the Green Economics Institute Delegation. She is interested in exploring the links between the environment and political economy, repositioning care at the center and exploring alternatives to western development, especially in Latin America. During COP26, she has been following negotiations on indigenous peoples and gender issues while also participating in the civil society protests. 
Panellist – Lauren Chin 
Previously a health-finance strategy consultant at EY, Lauren pivoted to a climate track through the start of her M.Sc. in Energy, Society and Sustainability at the University of Edinburgh School of Geosciences. Lauren now works part-time as an Impact Coordinator at the university's Centre for Business, Climate Change, and Sustainability (B-CCaS) where she has had the unique opportunity to get involved in climate from both a student and researcher perspective. Melding her interest in business and climate, Lauren explores climate from a multi-disciplinary perspective and hopes to pursue a PhD in the future. 
During COP26, Lauren was involved in the NYT Climate Hub as moderator of several sessions which stemmed from her work at B-CCaS on the NYT Innovators Initiative focused on green entrepreneurs, in addition to curating a panel held in Glasgow with a nature-based solution company. 
---
View Other Events
---
© 2023 - EI Ltd, The University of Edinburgh