Impact Economies: Enterprises for an Equitable Future
Microsoft Teams
---
Wednesday, 06/04/2022
15:45 - 17:00

Microsoft Teams
Link to be sent prior to event
---
Event Description
{{detailsExpanded ? '- Show Less' : '+ Show More'}}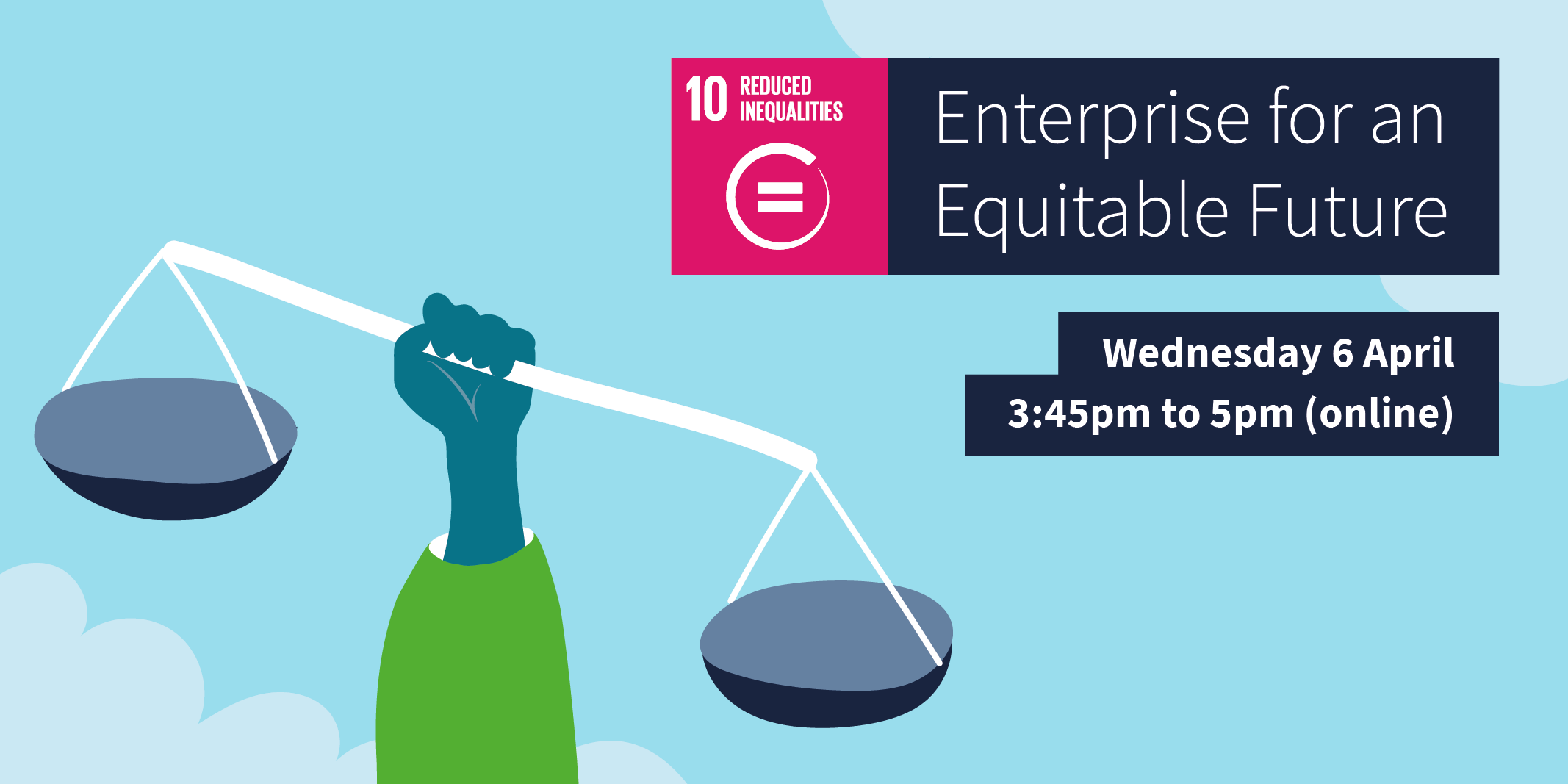 How does 'the individual' drive and empower change in the economic system?
This event will explore equality, diversity, inclusion, social enterprise and impact driven economies through real world examples, featuring a panel of women entrepreneurs who are leading environmentally and socially responsible enterprises across different intersections of identity and community. 
Whether you're developing a startup, want to learn more about EDI in business, interested in becoming a more conscious consumer, or keen to network with like-minded individuals, this event will provide the audience with tools to learn, connect and take action. 
The panel will share their personal narratives and explore practical examples of how sustainability and social responsibility can be embedded into all jobs no matter the sector or your identity. 
Come along to uncover and shape the driving forces behind social enterprise for an equitable future. 
This event is open to current students, recent graduates and interested staff at the University of Edinburgh. The event will take place online, on Microsoft Teams. 
#UoETakeAction
Meet the Entrepreneurs: 

Jenny Trott (she/her), founder of Mecoco 
Jenny Trott is the founder and Director of Mecoco, a North Ayrshire based social enterprise.  
Set up 3 years ago to provide a work opportunity for her own disabled son, the Mecoco team now comprises 24 disabled and non-disabled people working alongside each other making candles and other home fragrance products. Unusually, even within the 3rd sector, Mecoco welcomes individuals with the highest levels of support need and therefore represents a unique opportunity for them to do meaningful work, learn new skills and provides a valuable alternative to the Services which usually form the majority of their day to day lives.  
Passionate about the value of social enterprises and honest about the rigors and her love of running one, Jenny is keen to share her experience and knowledge. @MecocoUK 
Mairi Oliver (she/her), owner of Lighthouse Bookshop 
https://lighthousebookshop.com/ 
Mairi runs the award-winning Lighthouse: Edinburgh's Radical Bookshop. She has been in the book trade for over a decade, though in past lives she has also been a cleaner, bartender, Human Rights advocate, policy researcher, gallery assistant and more. Her bookselling career took her from the Constant Reader in Sydney to Topping & Company Booksellers in St Andrews, and in 2017 she opened Lighthouse as a queer, feminist, anti-racist bookshop. Mairi works alongside a team of 8 tremendous booksellers to program and host the annual Book Fringe (August) and Edinburgh's Radical Book Fair (November) - two staples of Scotland's alternative cultural scene. In 2020 the bookshop took over running the Bread & Roses Award for Political Non-Fiction, and Mairi launched Lighthouse online, with a new digital offering & author programme that is still growing and evolving: @lighthousebks  
Nadia Karim (she/her), Life Coach at Everyday Writes 
Nadia Karim is an inclusive life coach at Everyday Writes. She's committed to creating diverse, multi-faceted spaces and smashing the one-size-fits-all box that makes some people think some spaces are not for them. Nadia offers one-to-one coaching online that celebrates your whole lived experience. She holds space for the unique ways we each move in the world and is here for the people who are done with going it alone, who want to be the change, who feel it all so deeply, whose energy and momentum ebbs and flows. 
Nadia has 15 years' experience as a self-employed creative helping people to use their voice and tell their stories. Her most recent book, 'I Cannot Get This Wrong: Change the way you think about anxiety, create joy & heal collectively', co-created with Dr Sarah Madigan, explores how to transform your relationship with anxiety. 
Until recently, Nadia was also half of Century General Store, a sustainable shop with a focus on community. She's passionate about "caring out loud" in business and helping people to sustain momentum to keep showing up in the world in your own way every day. 
Meet the Host:
Jaime Prada (they/them)
LGBT+ Liberation Officer at the University of Edinburgh & Equality, Diversity and Inclusion Host at Edinburgh Innovations
Jaime Prada is the LGBT+ Liberation Officer at the University of Edinburgh, as well as the Equality, Diversity and Inclusion (EDI) Host at Edinburgh Innovations (EI). Jaime represents queer students at all levels of governance, defending their rights and needs on university boards and bodies. They also oversee that EDI values are respected on every operation at EI. 
More events

---
View Other Events
---
© 2023 - EI Ltd, The University of Edinburgh