Christmas Fair 2021
Student Enterprise Hub
---
Friday, 10/12/2021
11:00 - 18:00
Catered

Student Enterprise Hub
Appleton Tower,
Chapel Street/Windmill Street entrance
Edinburgh
---
Event Description
{{detailsExpanded ? '- Show Less' : '+ Show More'}}

Pop along to the Student Enterprise Hub for our Christmas Fair.
There will be 18 stalls selling bespoke products by entrepreneurial students and recent graduates from the University of Edinburgh. Pick up a unique gift, support a small business and help our thriving entrepreneurs.
Our stall holders:
Harvest - sustainable jewellery-making kits
Georgie Brook - greeting cards
Hazel earrings
Luna Xue - pins and earrings
Quas Drinks - fermented kvass
Lydia - polymer clay jewellery
What Next - postcards, bags and stickers
Name App - sweets
Floco - sanitary products
Anamnisis - candles
Linda Initiative - notebooks and pens
Sanitree -

sanitary products

Mary Buchanan - Christmas cards and prints

Rania - Sudanese feast sweets

Sara, Innes and Ella-Rose - various prints and cards

Ark Studios - t-shirts and canvas

Alice Yuan - Gloves and polymer clay rings

G*ndershit - prints, cards and more
We're also delighted to announce you can get bubble tea from Tempo, who will be joining us on the day.
Competition
Win a goody bag filled with products from our stalls and a £50 Amazon giftcard with our social media competition. Find out more and enter now.
Where to find us
Held in our Student Enterprise Hub, a home for our enterprise community in the heart of central campus. In Appleton Tower, facing Chapel Street, near the Pear Tree. (See map below).
Who can attend?
Open to all students, graduates, staff and members of the public to enjoy.
It's completely free to enter, but please book so we have an idea of numbers.
Payments on the day
Some stall holders can accept card payments, however please bring cash so as not to be disappointed.
Discover the winners of our competitions
Join us later the same day to discover the winners of our Business Ideas Competition and Environmental Enterprise Ideas Competition! Taking place at the Hub 4pm-5pm. Book your place now. 
Student Enterprise Hub map: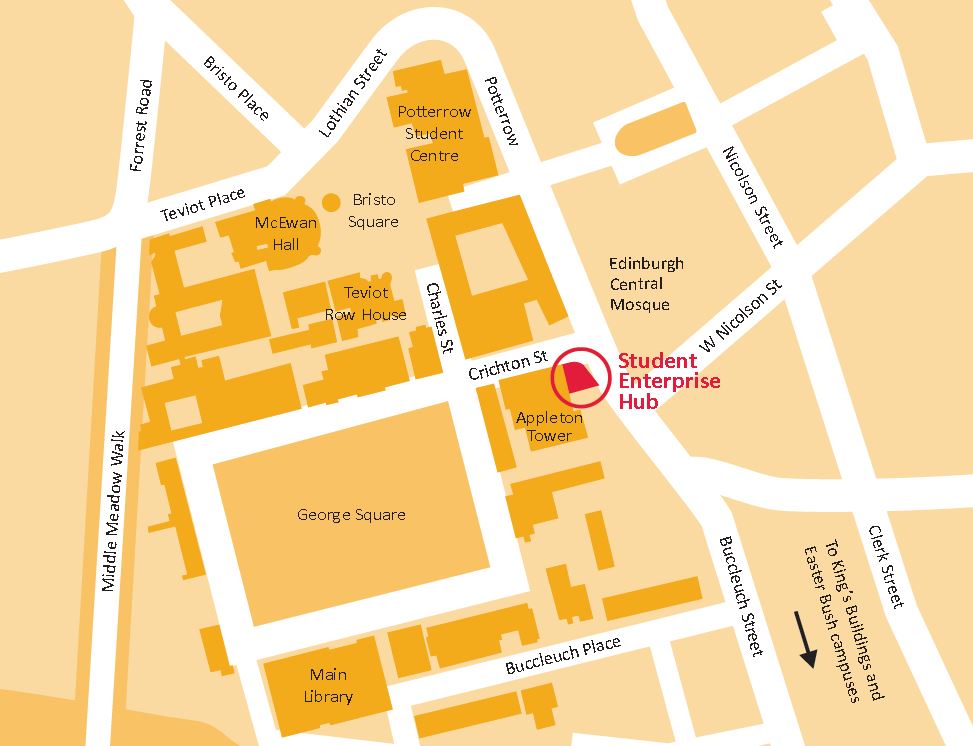 ---
Enter your details to register for this event. You can also log in or confirm your email address to view and register for other events.
View Other Events
---
© 2022 - EI Ltd, The University of Edinburgh